Taunton's Coronation Celebrations
Somerset Council in collaboration with Taunton Town Council is holding a two-day celebration to mark the Coronation of King Charles III over the weekend of 6 and 7 May 2023.
Join us to watch the Coronation of His Majesty The King and Her Majesty The Queen Consort live on a giant screen in Castle Green, Taunton, on Saturday (6 May), and the Coronation Concert which will be live streamed from Windsor Castle on Sunday (7 May).
The Coronation celebrations will run throughout the weekend with a community stage in Castle Green featuring an exciting programme of entertainment from local bands and performers; and youth groups and traditional brass bands performing on the bandstand in Vivary Park.
Keep an eye here for more information or stay up to date by visiting our Facebook page: Taunton's Coronation Celebrations.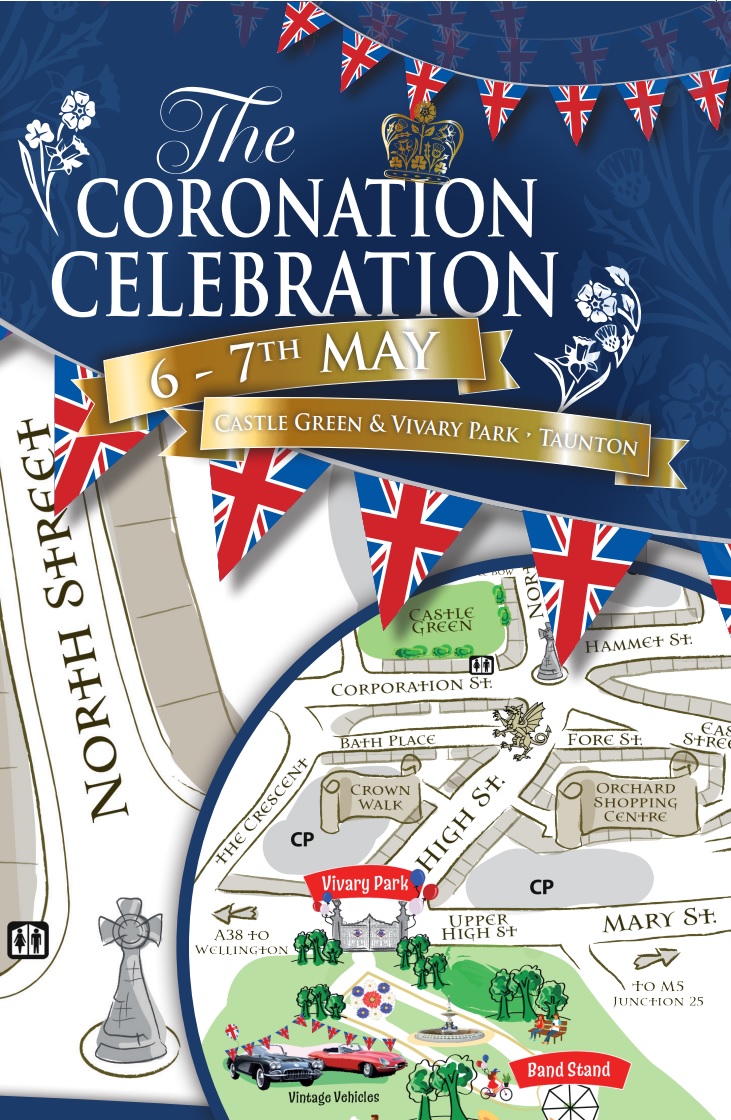 Event map of Castle Green and Vivary Park, Taunton, with full programme of performances and activities taking place on Saturday 6 and Sunday 7 May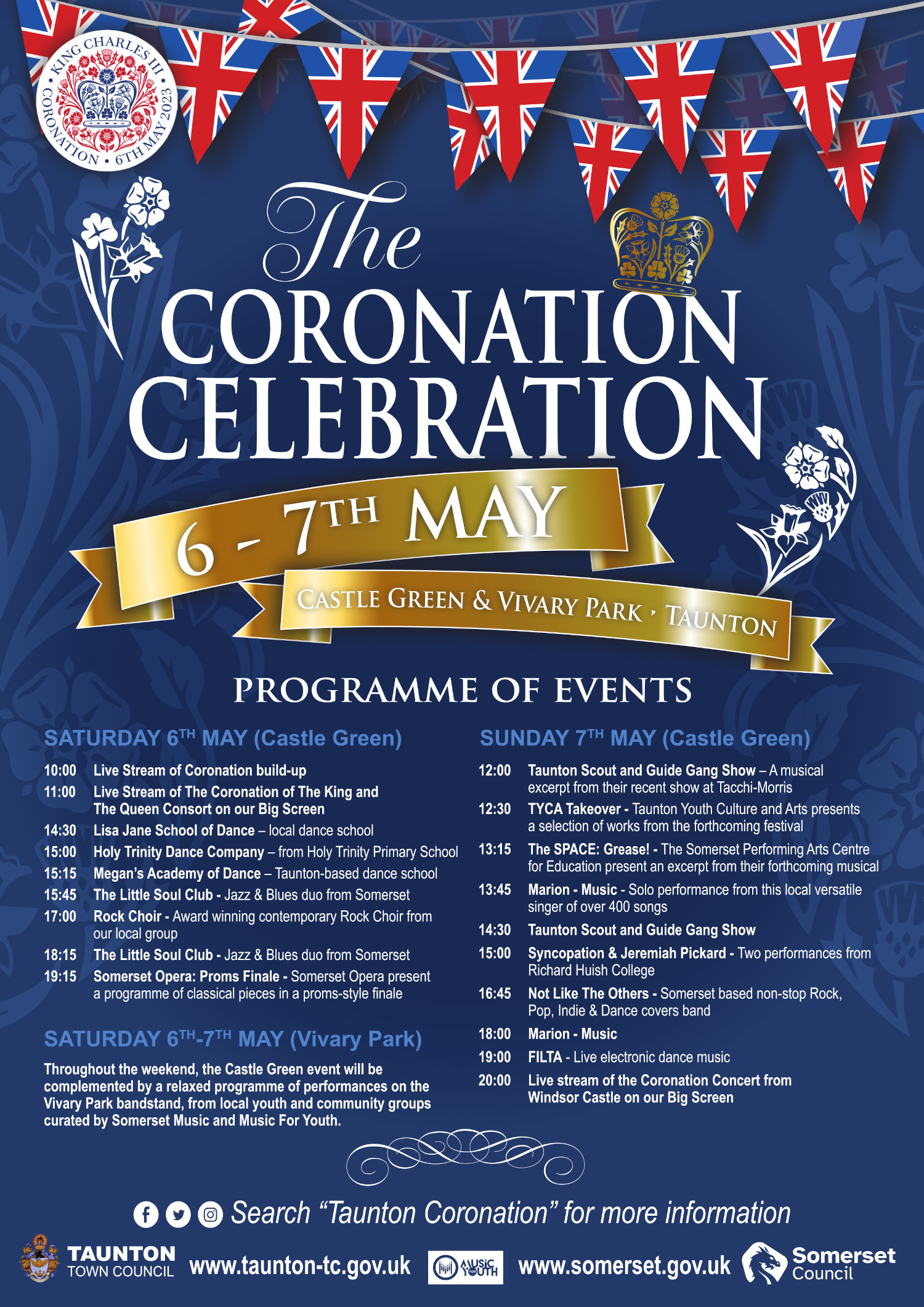 The full line-up of performers and schedule of events taking place in Castle Green and Vivary Park, Taunton, on Saturday 6 and Sunday 7 May
Coronation events across Somerset
Coronation events are taking place across Somerset, use the online event map to discover what's on near you.
Coronation programme
The Coronation programme will include the procession and service at Westminster Abbey on 6 May, the 'Coronation Big Lunch' across the country on 7 May (with a concert taking place in Windsor in the evening), and 'The Big Help Out' community activity on the bank holiday, Monday 8 May 2023.
Coronation road closures
Neighbours and community groups looking to hold street parties in May to celebrate the King's Coronation should check whether they may need a temporary road closure.
The Council requires 6 weeks to process road closure applications for street parties on no-through roads, and 12 weeks for closures for special events. This means that time is running out for planned celebrations in early May.
For guidance and information on holding street parties or events in Somerset for the Coronation, please see our Guide to organising community events and Apply for a road closure for an event.
The Coronation Big Lunch
The Coronation Big Lunch, on 7 May, will encourage communities to come together, celebrate their connections and get to know each other better.
It will bring the Coronation festivities into the heart of every community.
More detail on getting involved is available on the Coronation Big Lunch website.
The Big Help Out
The Big Help Out, on 8 May, will provide an opportunity to reflect on the legacy of His Majesty's service and showcase the impact of volunteering within communities. People across the UK will be able to get involved and more detail is available on The Big Help Out website.
Latest news
See below for the latest news regarding the King's Coronation: