Peer Challenge
The Local Government Association (LGA) Peer Challenge provided a great opportunity for Mendip to learn from colleagues in other local authorities. The Peer Challenge process involves a small team of local government peers, who understand the challenges and opportunities facing local government, spending time at the council to provide challenge and share learning.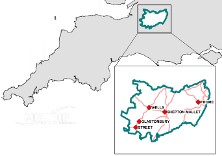 Residents and businesses are central to everything we do and we are committed to improving the health, wellbeing and prosperity of our community. In response to reductions in funding and changes in government policy, we have continued to find different and new ways of working. We have become more innovative in the way that we do business and deliver services. We have a strong track record of working in partnership with other service providers and we know that we have some key priorities in common with them. We have further built on opportunities to work with partners in both public and private sectors, including through the development of the Shape Mendip Hub and collaborative projects, allowing us to deliver better outcomes for our community and increase value for money.
We have achieved a great deal, embraced significant change and are continuing to transform. We think that now is a good time to take stock and so we will be welcoming the LGA Peer Challenge Team at the end of February 2017. After their visit, they will produce a report which will provide constructive feedback on our strengths and areas where we could improve and develop further.
The report is now available here: Corporate Peer Challenge