Vale of Frome pilot map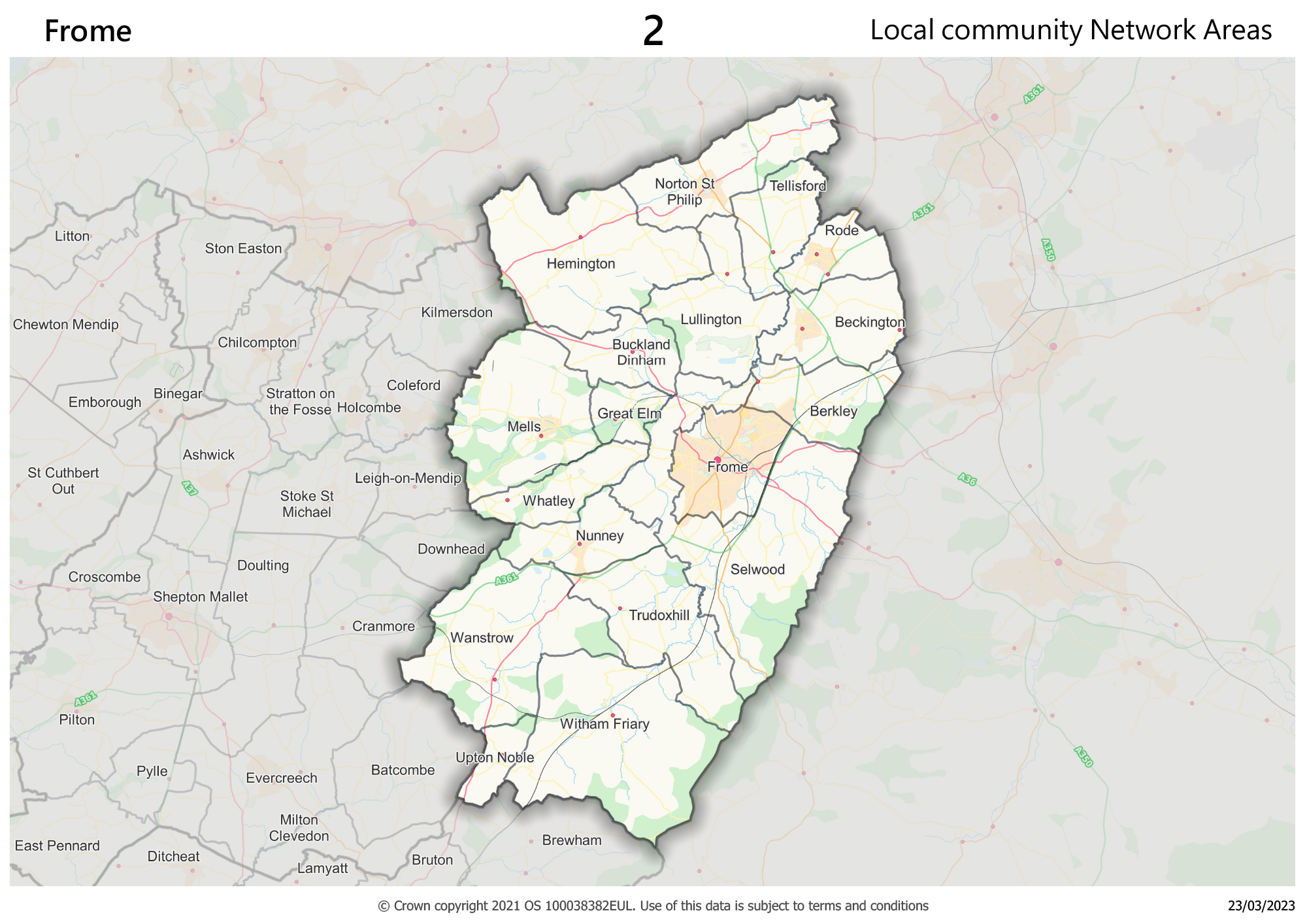 Highlights
The pilot in this area has had a focus on Children, Young People and their Families. Over the course of the last 18 months they have been working together to better understand the needs of residents in their area, consider appropriate data and agree a series of actions to improve the lives of Children, Young People and their Families.
This pilot has focused their discussions around 'Five Areas of LCN Potential'
What can we do together as parishes and communities that address common issues and opportunities, regardless of the involvement of Somerset Council?
What services and policies of agencies can we influence, so that they are doing better things to serve our area?
What assets and budgets currently run by Somerset Council can our members own and control locally, to achieve better outcomes than at present?
What new services or innovations can we develop to change the pattern of service delivery?
What new resources we can attract to help common agendas in our local area?
The LCN has supported the development of new relationships between parishes and with a range of statutory and voluntary, community, faith, and social enterprise partners. Some of those involved are listed here:
Frome Licensing Partnership
Frome Schools – Headteachers (SEND, First, Middle and College)
Frome Medical Practice
Health Connections Mendip
Primary Care Network – From Clinical Lead
Somerset Council / Integrated Care System Commissioner
Somerset Council – Early Help
Somerset Council – Assistant Director Children's Services
Somerset Council – Connect Somerset – Adults and Children's Lead
Somerset Council – Data Team
Public health – School Nursing / Health Visitors
Frome Library
Police – PCSO Team
Safe Families
Spark Somerset
Somerset Activity Sports Partnership
Young Somerset
YMCA
Purple Elephant
Community Council Somerset – Village Agents
Citizen's Advice
Fair Frome
Edventure
Somerset Skills and Learning
LCN Chair
Mendip District Council
The pilot LCN has:
Heard about what the data tells us from colleagues in Children Services at Somerset Council
Together they have:
Discussed the important role of Sport and Physical activity in children's lives with Somerset Activity and Sports Partnership (SASP)
Explored what Anti Social Behaviour means in our parishes, to 350 young people and the police, gaining a better understanding of the issues and who is responsible
Developed a working group which meets outside of the larger meeting to focus on the development and delivery of an action focused plan
Supported coordination and connection of a range of partners to improve the Early Help offer for local families, including Frome Library to address issues of anti social behaviour and enhance their offer for young people
Enhanced detached youth work provision
Enhanced coordination and strategic overview of:

Frome Children and Young People's Mental Health forum
Frome Youth Network
Development of new Under 5's Forum
Locally they are owning and controlling:
A small grants program to support physical activity in all of their parishes funded by a Local Government Association Grant
They have developed new services and attracted new resources into the area:
Secured national funding and have recruited a Frome Area Development Lead delivering new sports and activities for young people led by SASP
Mapped the gaps and opportunities in villages surrounding Frome – funded by Public Health and Early Help Team at Somerset Council
Further developed FIND Frome – a digital database for families and practitioners, which now includes information about services and opportunities in the wider Frome Area
Secured external funding to be part of a pilot project in three areas across the UK to map community connections through a project called Understory
Identified an Area Champion and secured a grant to work with Somerset Council to develop the Connect Somerset offer in the Frome Area
Their influence has included:
The development of Connect Somerset, a county-wide project to develop a place-based approach to enhancing and building a comprehensive Early Help offer for children, young people and their families
A better coordinated and strategic plan for the delivery of statutory and other services and opportunities in the Frome Area
Increased information and signposting for residents and practitioners
Parishes
Beckington
Berkley
Buckland Dinham
Great Elm
Frome
Hemington
Lullington
Mells
Norton St. Philip
Nunney
Rode
Selwood
Tellisford
Trudoxhill
Upton Noble
Wanstrow
Whatley
Witham Friary
Electoral Divisions
Frome East ED
Frome North ED
Frome West ED
Mendip Central and East ED
Mendip South ED
Reports and presentations