Recycling tracker report
Our latest Recycling Tracker report shows Somerset's continued great work and progress
Our latest Recycling Tracker report shows Somerset's continued great work and progress.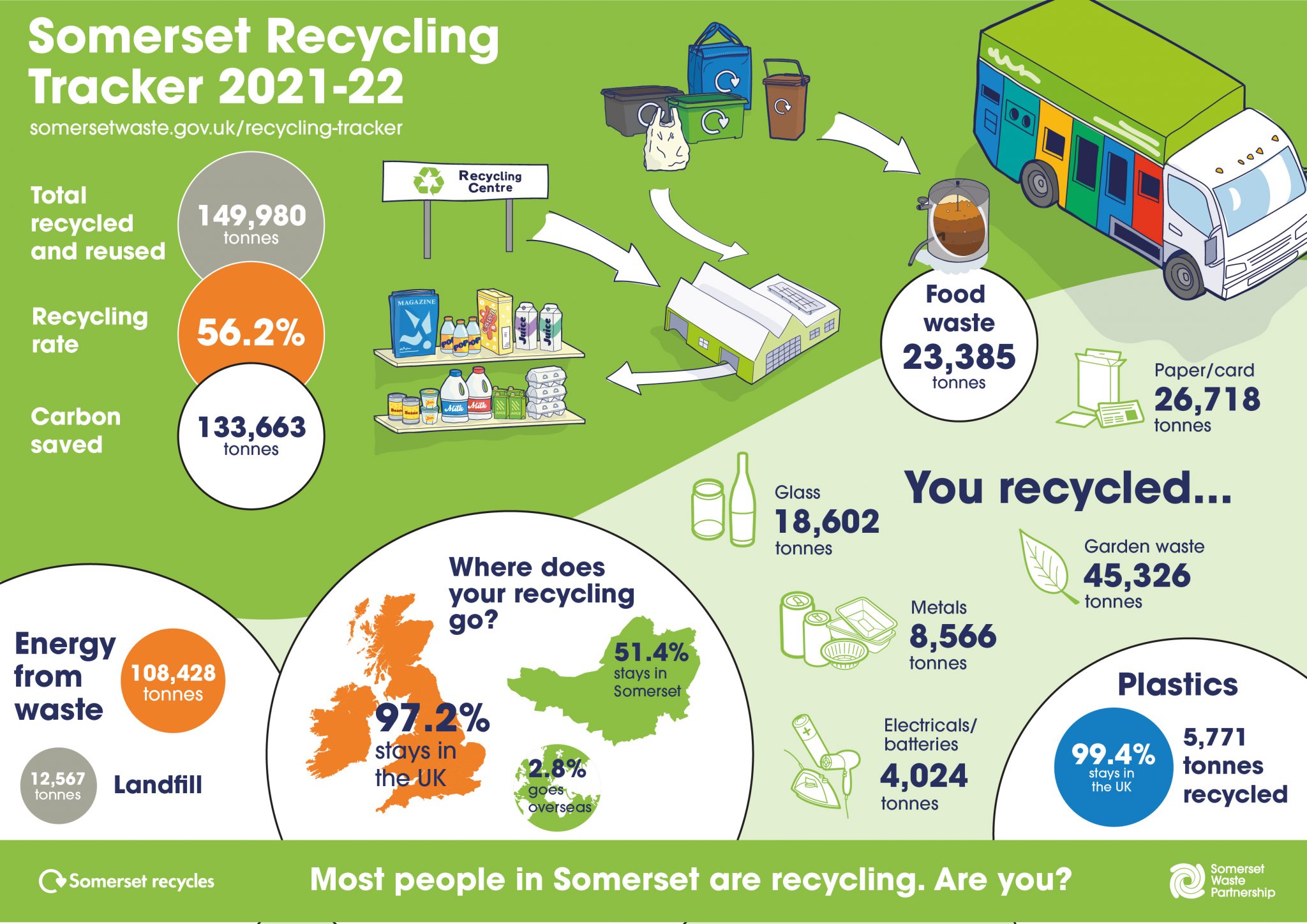 The Tracker monitors every tonne of the county's household waste to identify where it goes, the companies involved and its likely use as new packaging and products. Pioneered in 2008, Somerset was the first waste authority to publish this kind of annual, detailed breakdown.
The latest report, for financial year 2021-22, reflects Somerset's residents' support for recycling, and hard work by the staff of our collections contractor SUEZ and recycle sites operator Biffa.
Tracking every tonne of the waste Somerset creates shows that the reprocessing companies are legitimate and that no recycling is burned, dumped or ends up in the ocean. And it shows what kinds of products and packaging Somerset "waste" can become, from cardboard boxes to plastic pipes, soil conditioner to car parts.
Overall, in 2021-22, Somerset recycled and reused 149,980 tonnes with a recycling rate for the year of 56.2% – up from 52.4%. This saved the equivalent of 133,663 tonnes of carbon. We sent 108,428 tonnes of refuse to generate electricity through the Avonmouth energy-from-waste plant. Just 12,567 tonnes went to landfill.
Somerset Council and its contractors have a commitment that all materials collected for recycling will stay in the UK if there is reprocessing capacity and demand in this country.
Thus 97.2% of Somerset's recycling was reprocessed first in the UK and 51.4% stayed in the county. Most of the 2.8% exported was card and paper going back to firms in Europe and Asia to make cardboard boxes for imports of white goods and electronics.
With plastic pots, tubs and trays added to kerbside collections, Somerset's plastics performance shows the tonnage soaring from 4,359 tonnes 2020-21 to 5,771 tonnes, with 99.4% recycled here in the UK and the rest tracked to firms making new plastic bottles and other packaging.
Somerset's impressive recycling rate puts it among the leading authorities for recycling, with plenty of potential for residents to raise that even further. It also makes Somerset one of the very best areas for carbon saving. That is all down to the kerbside sorting producing the kind of low-contamination, high-quality materials the market demands.
Of the 149,980 tonnes recycled or reused – electrical items to clothes, bottles to cans, cardboard to cartons, wood to metals – the largest single material is the 45,326 tonnes of garden waste composted in Somerset and turned into the Revive soil improver. Another hefty load is the 23,385 tonnes of food waste. This is transformed by the Somerset anaerobic digestion plant at Walpole near Bridgwater into electricity for homes and businesses, plus farm compost to help grow more food.
Heaviest of the "dry" materials is paper and card at 26,718 tonnes, which goes to make newsprint and yet more cardboard. The 18,602 tonnes of glass bottles and jars is one of only figures to show a slight decrease, unlike the increase in metals to 8,566 tonnes, which become anything from new cans to car parts. Also up – thanks again to the small electrical item and batteries collected with Recycle More – are electricals at 4,024 tonnes.
How materials are recycled
| | |
| --- | --- |
| Paper | Sent to paper mills in the UK and overseas to be recycled into newsprint and other paper and board products. |
| Cardboard | Sent to board mills in the UK and overseas to be recycled into new cardboard. |
| Mixed container glass | Sent to reprocessing facilities in the UK to be turned into mineral wool and new glass bottles and jars. |
| Cans and foil | Sent to reprocessing facilities in the UK to be sorted into steel and aluminium. Steel cans are made into new steel products and aluminium cans are recycled into more cans and other aluminium products. |
| Food waste | Sent to an anaerobic digestion facility near Bridgwater to produce a soil improver used on agricultural land and biogas used to generate electricity. |
| Garden waste | Composted in Somerset by Viridor and local farmers. Used on site or sold as Revive Compost at recycling centres. |
| Textiles | Sent for reuse in the developing world or shredded into cotton felt/wadding/mops and industrial wiping cloths. |
| Shoes | Sent for reuse in the developing world or shredded into cotton felt/wadding/mops and industrial wiping cloths. Sent to developing nations to be refurbished and reused. |
| Plastic bottles | Sent to reprocessors in the UK and overseas to be recycled into various plastic items such as films, pipes, compost bins and fleece jackets. |
| Beverage cartons | Sent to reprocessors in the UK to be separated into paper for cardboard products, plastic to generate energy, and aluminium to be used for aluminium products. |
| Fridges and freezers | Broken down into separate components for reuse in manufacturing, and CFCs extracted for safe disposal. |
| Electrical | Broken down into separate components, baled and recycled. |
| Bric a brac | Sent to various local outlets via collection agents at each recycling site. |
| Household batteries | Separated into different fractions (i.e. metal and plastic) for reuse in manufacturing. |
| Automotive batteries | Separated into different fractions (i.e. metal and plastic) for reuse in manufacturing. |
| Cooking oil | Turned into biofuel to generate electricity and heat. |
| Engine oil | Oils are recovered and blended for use as an alternative fuel. |
| Paint (water based) | Recycled into new paint products. |
| Scrap metal | Sent to various reprocessors who break it down into separate components, bale and recycle it. |
| Wood (Clean and low grade timber) | Some of the wood is chipped and made into a range of products including animal bedding, equestrian surfaces. Some is incinerated to produce energy and heat. |
| Plasterboard | Separated into gypsum which is reprocessed into new plasterboard, and paper which is recycled into a variety of new paper materials. |