Marine Cove, Burnham-on-Sea
Parks and play areas
Back to all Parks and play areas
Description
Marine Cove Gardens is located next to St Andrew's Church on Burnham-on-Sea's Victoria Esplanade. These formally laid out gardens are a place of tranquillity and relaxation and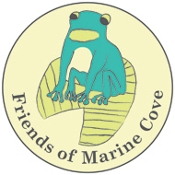 have been awarded the Green Flag for many years running. Marine Cove Gardens was first awarded a Green flag in 2012 and have continued to do so each year. The gardens are hidden behind high stonewalls, protecting them from the sea winds and next to the leaning tower of St Andrews Church. It is a perfect area for picnics and watching the world go by. The central feature of the garden is an Art Deco style fishpond.
Sedgemoor District Council was successful in being awarded funding from the Heritage Lottery Fund (HLF) to restore Marine Cove Gardens, which reopened in December 2011.
Royal Horticultural Society (RHS) – Britain in Bloom South West
In 2017, the RHS and South West in Bloom awarded Marine Cove Gardens with a Level 3 award, which the Friends were very pleased to receive. The work continues and new volunteers are always welcome.
Access
There are lots of access points to the site direct from the Esplanade. It is easily accessible by car or bus. There are way markers approximately 100m away from the zebra crossing on the Esplanade and on Victoria Street, directing people through the churchyard to the gardens.
For directions to Marine Cove Gardens, please use the postcode TA8 1DX.
Activity sheets
Can you find these at Marine Cove Gardens.pdf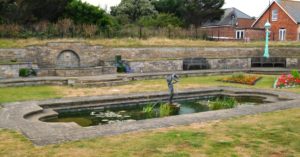 A brief history of Marine Cove
The Marine Cove site was originally part of the Old Vicarage estate until its sale to private company Burnham on Sea Attractions Ltd for £650.00 in 1922. The company wished to prevent housing development at the site and hoped to sell it to the Council, which was declined. Subsequently at a Council meeting in 1925 the land, then known as Marine Lawn, was gifted to the 'The Urban District Council'. This gift was formalised in 1926 and the Marine Cove Gardens you see today was designed, a beautiful, Historic Edwardian Garden. The Gardens were formally opened in 1927 by Quaker and Stockbroker1855-1934, J B Braithwaite.
Read more about A Brief History of Marine Cove
Events held in the Park
We hope the use of the park will continue to grow, with varied and diverse groups coming forward to use the park. For more information phone 0300 123 2224.
Read more about Events held in the Park
Volunteering and Fund Raising
The Friends of Marine Cove organise free events throughout the year to help raise funds for the upkeep of the gardens. All are welcome.
Read more about Volunteering and Fund Raising
Related documents
Marine Cove Information leaflet.pdf
Marine Cove Gardens environmental policy 2018.pdf
Location
| | |
| --- | --- |
| Address | Marine Cove Gardens, Burnham-on-Sea, UK |