With our next meeting being 13 of May, we wanted to share with you something amazing Gaby, our SEND YPC, has done this week! She was invited to give a presentation to a group of new SENCOs. We are very proud of her –this was her first presentation to a group like this and she was amazing!
Presentation at Dillington House – written by Gaby 
On the 2 May, I presented my presentation at the beautiful Dillington house. The house is full of history, and I felt proud to be able to do my presentation here. The presentation was presented to SENCOs who were completing their SENCO Award.
The presentation was about my job as the SEND young person's champion. I also presented what I do for my tasks. This was my first time presenting in front of a bigger group of people. The presentation has information about who I am, the importance of the young person's voice, pupil inclusion and pupil's voice. The aim of the presentation was to improve and educate people on the young person's voice. To ensure that the voice is being listened to is to establish change.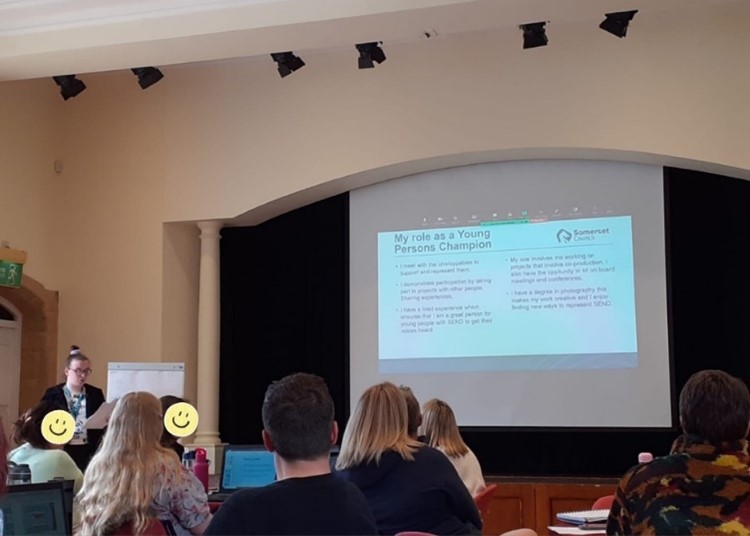 Some of my favourite slides were the young person's voice and what is co-production and participation. The key information on these slides was how co-production and participation are used within my job role. This is an example of some of the information in my presentation,
"co-production is very important because we need to make sure everyone feels that they are being listened to, and, their ideas are valid within a group. I demonstrate co-production in my work by listening to others and showing my own views on projects. Co-production is a chance to be collaborative."
The reason these two slides are my favourite was that I researched them and felt that it was interesting to learn something new. After the presentation I felt a sense of achievement, the subject that was presented was personal to me.
Get involved!
Our next meeting is Saturday 13th May 2023. If you or someone you know would like to be a member of the Unstoppables then follow the link to our new form Expression of Interest to join the The Unstoppables (office.com) 😊 
Similarly, If you or a young person you know wants more information about how they can join the Unstoppables, or be part of our work they/you can contact us via email (SENDParticipationTeam@somerset.gov.uk) or via phone/What's App (07976 809 773). 
You can also follow us on social media:
Facebook @sendparticipationteam
Instagram @sendparticipation
To follow information about all youth voice activities across Somerset follow:
Facebook @SomersetYouthVoice
Instagram @somersetyouthvoice
Twitter @SomerYouthVoice