The Unstoppables meeting this month was a little more full than last month. We had 3 new young people come to see what the Unstoppables were about and become members. We started the day by getting to know everyone in the room as we have had a total of 4 new members join over the last two meetings and April was the first time there was a full attendance. We also spent some time letting the new people know what the rules were for the meetings, what we got up to and a chance to tell our stories to one another.  
We then played an icebreaker; this activity was another great way to get to know the new young people and for them to get to know us. The icebreaker was called two truths and a lie, the object of the game is simple – think of two things that are true about yourself and one that is not, for example, one lie was that a member had met Elton John. There were some very funny lies.  
At lunchtime we sat around the table as a group enjoying our food and chatting, this was another great opportunity to get to know each other some more. It is always an amazing experience to expand your social skills 😊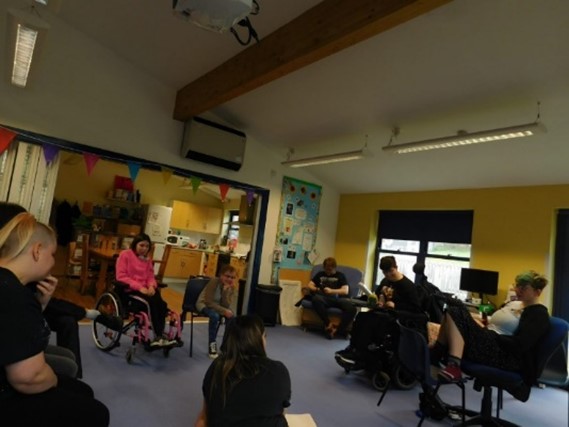 After lunch the Unstoppables then got to work on some of their tasks, they worked on putting their ideas together for the Short Breaks Statement, we got lots of feedback and members shared their experiences in using the service. We also updated an old piece of work we did for the Local Offer surrounding staying safe online, in which all members had fantastic ideas for ensuring how other Young People could stay safe whilst being online. 
We are hoping that after this meeting that our new members enjoyed their selves and we look forward to our next meeting in May, which will be the second Saturday due to the Coronation weekend.   
Get involved!
Our next meeting is Saturday 13th May 2023. If you or someone you know would like to be a member of the Unstoppables then follow the link to our new form Expression of Interest to join the The Unstoppables (office.com) 😊 
Similarly, If you or a young person you know wants more information about how they can join the Unstoppables, or be part of our work they/you can contact us via email (SENDParticipationTeam@somerset.gov.uk) or via phone/What's App (07976 809 773). 
You can also follow us on social media:
Facebook @sendparticipationteam
Instagram @sendparticipation
To follow information about all youth voice activities across Somerset follow:
Facebook @SomersetYouthVoice
Instagram @somersetyouthvoice
Twitter @SomerYouthVoice