Introduction
The Early Years Partnership
Professionals with an interest in the early year's agenda meet together with representatives from the early years workforce to share information and agree on joint strategies to improve outcomes for all children, young people and their families.
The partnership provides a forum to facilitate collaborative working and this group feeds into the Early Years sub group.
Early Years Communities
There are 11 geographical Early Years Communities across the county. In each of these communities, there are a minimum of 4 lead practitioners who will form the Early Years Community Committee. These leads represent the different early year's sectors Schools, Nurseries and Pre-schools, Childminders and Health links.
The Early Years Community leads work together to provide a strong communication channel within their communities to ensure the sector has an equitable and consistent opportunity to engage across Somerset.
The purpose of the Early Years Communities is to
raise attainment levels, supporting children to have good levels of development
support practitioners with continual professional development
support peer-to-peer learning
share good practice
represent Early Years Provider's voice within Somerset Council.
The Early Years Communities hold regular CPD events, by coming together they are able to share knowledge, skills and specialisms, provide informal peer-to-peer support and have a collective buying power for resources and training.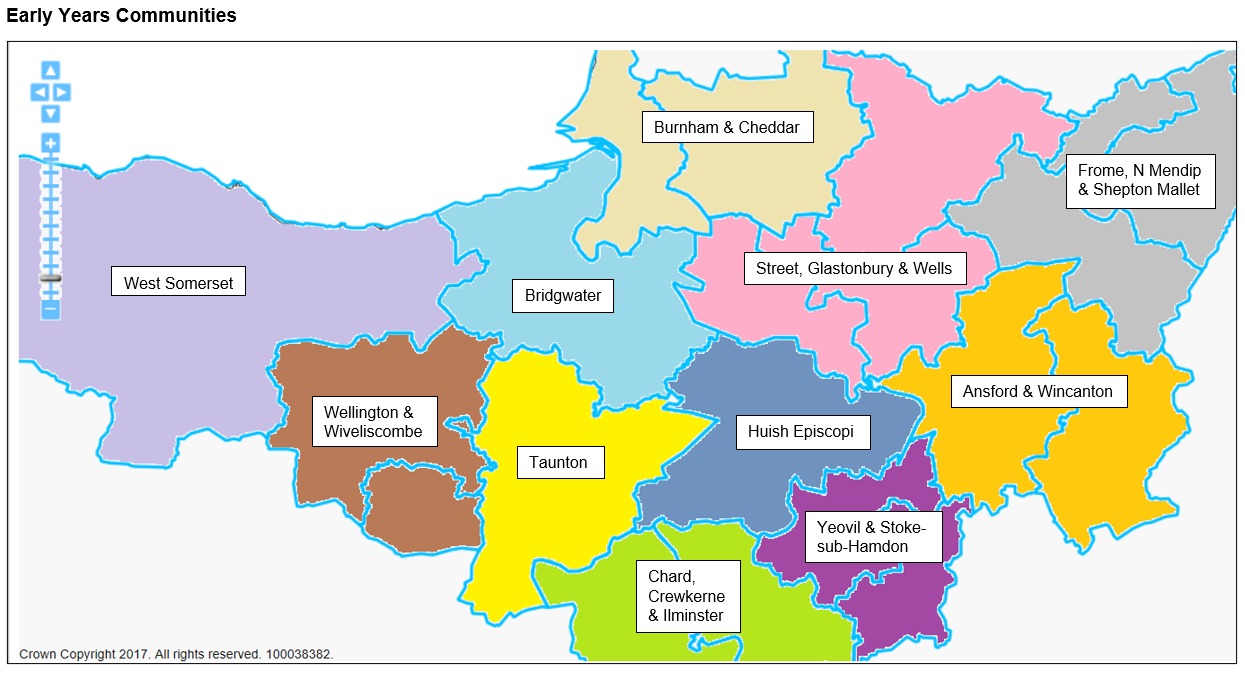 | Early Years Community | Lead | Role | Email |
| --- | --- | --- | --- |
| Ansford and Wincanton | | | |
| | Catherine McMenaman | Childminder | |
| | Norma Anslem | Evercreech, Lovington and Acorns Preschool | |
| | Rebecca Kilburn | Wincanton Primary | |
| | Samantha Davey | North Cadbury Primary | |
| | Toyah Bainbridge | Evercreech Primary | |
| Bridgwater | | | |
| | Allison Marker | Childminder | |
| | Tracy Gill | Little Oaks Nursery | |
| | Lucy Luke | Wembdon St George's Primary | |
| | Nicki Baxter | Little Oaks Nursery | |
| | Kirsty Hobbs | Little Crickets Nursery | |
| | Laura Mann | Cannington Primary | |
| Burnham and Cheddar | | | |
| | Andrew Rose | Childminder | |
| | Bev Tweedie | East Brent Preschool | |
| | Cheryl Bull | Mark First and Preschool Academy | |
| | Hayley Richens | Brent Knoll Primary | |
| | Katie Turner | East Brent School | |
| | Samantha Wade | Cheddar First School | |
| | Sharmaine Raymond | Fairstart Nursery | |
| Chard, Crewkerne and Ilminster | | | |
| | Carly North | Herne View School | |
| | Cheryl Herrick | Herne View School | |
| | Claire Oaten | Herne View School | |
| | James Langdon | Herne View School | |
| Frome and Shepton Mallet | | | |
| | Claire Dargie | Shepton Mallet Infants and Nursery | |
| | Honoria Thompson | Shepton Mallet Infants and Nursery | |
| | Sara O'Connor | Trinity First School | |
| | Amanda Seager | Trinity First School | |
| Huish Episcopi | | | |
| | Sue Gutteridge | Sunshine Morning Nursery | |
| Street, Glastonbury and Wells | | | |
| | Leanne Lamb | Jabberwocky Nursery | |
| | Laura Richards | St Dunstan's Honeybees | |
| | Lauren Edwards | St Dunstan's Honeybees | |
| | Sarah Priddice | | |
| | Kerry Sweet | | |
| | Rachel Gadd | Childminder | |
| Taunton | | | |
| | Caroline Perrin | Childminder | |
| | Gemma Roberts | Little Explorers Day Nursery | |
| Wellington and Wiveliscombe | | | |
| | Becky Allder | Stawley Preschool | |
| | Rebecca Batten | Fledglings Nursery | |
| West Somerset | | | |
| | Jo Buck | Cheeky Cherubs Nursery | |
| | Rachel Blundell | Childminder | |
| | Emma Murch | Old Cleeve School | |
| Yeovil | | | |
| | Kim Duller | Yeovil Opportunity Group | |
| | Sara Fennelly | Somerset Skills and Learning | |
| | Louise King | Ilchester Primary | |