Introduction
The Cornhill Indoor Market in Bridgwater houses 13 units selling a variety of goods from:
fruits
vegetables
meats
tools
watches
exotic goods
Where to find Cornhill Market
In front of the market building is the very visible and iconic Cornhill glassed dome, which now features a stylish restaurant.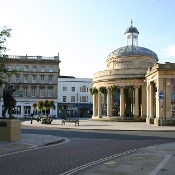 The indoor market is based at:
High Street,
Bridgwater,
TA6 3BY
The market can also be accessed from near St. Mary's Church. Nearby pay and display parking is available in Mount Street, Angel Place, Eastover short stay, Northgate or Dampiet street. There may also be limited on-street parking available.
Opening Times
The indoor market is open:
Monday 9am until midday
Tuesday to Friday 9am to 4:30pm
Saturday 9am to 3pm
Closed all day Sunday
Please note that each unit may operate more varied opening hours within the above constraints.
What is in the market for shoppers to visit
Bridgwater Discount Jewellery – phone 07787 566063
Pawn broker and trader of electrical goods.  Sell and buy gold and silver.
Unit 7, Vacant – for details contact the Valuation Manager.
Liberation Hair Items – phone 07502 043589
Sells handbags, hair pieces, clip-ons and other hair accessories.
Unique Fashions – phone 07787 946032
Sells scarves, hats, dresses, blouses, linen, clothes, party dresses, perfumes and handbags.
Cornhill Watches 
This specialist repairs, maintains and sells watches, clocks and jewellery. They also supply a wide range of batteries for everything from doorbells, to mobile phones, fit batteries, and straps to watches.
Historical facts about the Bridgwater Cornhill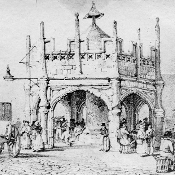 The Cornhill is the historic centre of the medieval town. Originally there was an octagonal market cross on the site. The Cornhill market cross was erected in the late 14th century when the Cornhill was known as Cornchepyng. On market days, fish, fowl, vegetables, and other fare were traded at the Cornhill.