Somerset Adult Social Care - Independent Living Centres (SILC)
Somerset Adult Social Care have two Independent Living Centres (SILCs) to help people in Somerset find equipment and solutions to stay active, independent and to make life easier.
We offer free, impartial information and advice and encourage people in Somerset to attend who may need advice about living independently – this could include equipment in the bathroom, kitchen or moving around. We are also able to demonstrate technology to help support people with their caring role and to aid daily living.
The centres in Wellington and Shepton Mallet are open for appointment only bookings where you can talk to the Social Care Occupational Therapy led team. You can book your free appointment today – email adults@somerset.gov.uk or phone 0300 123 2224.
We will give you full directions with your appointment confirmation and provide details of accessible community transport options to help you get to the appointment if you need it.
Further details including 2-minute videos which will show you what to expect when you visit can be found on our website page Equipment to help you.
Somerset Lifeline
There are other ways you can stay safe and independent at home. Lifelines, or community alarm services, are low-cost pendant alarm services for anyone who needs support at home or may be at risk of falling. They can offer a wide range of alarms to suit every individual and the highly trained support team will help you to find the right alarm for you.
The Lifeline is an emergency alarm comprising a button worn on the wrist or around the neck, and a small alarm unit that plugs into your electricity socket and phone line. At the touch of a button help is on hand from our Somerset based response team 24 hours a day, 365 days a year.
Additional alerts can be added to the system, including falls alarms, smoke alarms, door exits sensors and heat alarms. In some areas there is also a 24 hour lifeline response service that will attend your home if you need help. Somerset Lifeline are part of Somerset Council.
You can also try some of the Lifeline equipment at our Independent Living Centres – see above.
Carer pagers are also available and can alert a family member or friend of a sensor being triggered. This can be particularly helpful and reassuring if you have returned home after being in hospital.
For more information, please visit our website or phone 0300 123 2224.
Somerset Independence Plus (SIP)
Somerset Independence Plus (SIP) is the Council's preferred Home Improvement Agency.
Home Improvement Agencies are local, trusted organisations that help older, disabled and vulnerable people with reliable information and advice . They support people to make modifications to their homes as their health and needs change, through later years especially.
SIP – which is part of Somerset Council – provides a range of services to make your home safe, secure, warm and easier to manage. We can provide:
• Home safety checks
• Full support with applying for Disabled Facilities Grants and other financial assistance
• Information, advice and guidance about the options available to improve your independence, comfort, safety and security of your home
• Assist with home improvements including improving the insulation and heating in your home
For more information, please visit our website or phone 0300 303 7794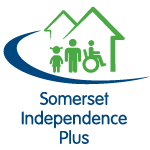 Grants and loans
Assistance to make your home safer and fund disabled adaptations is available from the Council.  Visit our Financial Assistance page to find out what help is available.
Energy advice
Advice is available from the Centre for Sustainable Energy. Contact the Home Energy Team on 0800 082 2234 or visit their  website for expert advice to help you stay warm in your home and save on fuel costs.
More information is available at Home Energy Team at the Centre for Sustainable Energy